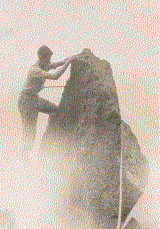 WE Bowman wrote the following brief autobiography in 1983. It was read out at his funeral:
I appeared at Scarborough in 1911. In 14 the Kaiser shelled the place. In 18 my father and some others fettled the Kaiser. In 21 we moved to Middlesbrough. Educated at the High School, I was put to engineering. From 27 I suffered in a drawing office and got hooked on mountaineering - in books and the Lake District, writing - especially humorous, and Einstein's Relativity.
In 34 I moved to London to write but lapsed into engineering. In 39 I moved to Swansea. In 40 Hitler bombed the place. In 41 I joined the RAF. In 45 we fettled Hitler. From 47-50 I served with International Voluntary Service in Germany and London and decided to fettle Einstein. From 50 engineering leap-frogged with writing. In 58 I married and we moved to Guildford. In 71 I retired from engineering.
Since its first publication, the words Rum Doodle have been taken by fans of the book for a variety of purposes: the Rumdoodle sleeping bag, Rumdoodle climbing company, Rumdoodle the rock band!
If you have a Rum Doodle to share, send us pictures, files, links and slideshows and we will share them with the Rum Doodling community. More Rum Doodles >