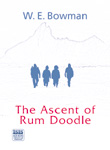 Talking book edition, published by ISIS in cassette and CD. Admirably read by Terry Wale, who also read it on the BBC in 2003.
Isis website here
https://www.isis-publishing.co.uk/osb/showitem.cfm?keywords=rum+doodle&;message=1&searchtype=All
Since its first publication, the words Rum Doodle have been taken by fans of the book for a variety of purposes: the Rumdoodle sleeping bag, Rumdoodle cllimbing company, Rumdoodle the rock band!
If you have a Rum Doodle to share, send us pictures, files, links and slideshows and we will share them with the Rum Doodling community. More Rum Doodles >